Forming Techniques
In-Line or Roll-Fed Thermoforming
The in-line thermoforming process is designed to take advantage of the hot sheet coming off the extruder. The sheet is mechanically conveyed directly from the extruder through the oven to maintain the sheet at a forming temperature and then to the forming station. The forming step must be synchronized with the extruder take-off speed. This type of thermoforming is usually limited to sheet 0.125" or thinner and applications that do not require critical thermoforming (optimum material distribution and close tolerances). This process is more difficult to control than other thermoforming processes. The major disadvantage is that with the extruder and former being tied directly together an upset in one causes a shutdown in both.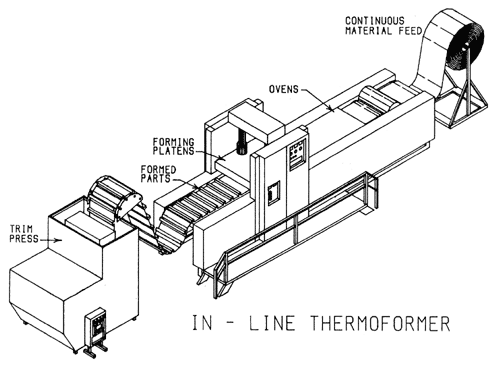 The majority of roll-fed machines or in-line machines are commonly used for the production of thin-walled products such as cups, trays, lids, internal packaging, and other finished products with a finished wall thickness of 0.003" to 0.060".
Because of the speed of these machines secondary operations are incorporated within the unit. These may consist of printing, filling, sealing, die cutting, scrap cutting, or automated removal and stacking of finished product.
The normal roll-fed machines consist of the roll station, upper and lower heating banks, form station, cooling station, and trim station.
Shuttle and Sheet-Fed Thermoforming
The shuttle or sheet-fed machine is by far the most popular industrial thermoformer, designed to utilize all forming techniques and capable of holding great pressures between upper and lower platens. Each platen contains air and vacuum which may be controlled, depending upon the forming process used. Platens move rapidly and are capable of locking to prevent separation when air pressure is introduced between the molds. A variety of heat sources can be used (infrared electric rods, gas infrared, gas catalytic, ceramic electric, etc.), and the plastic sheet can be heated from both top and bottom.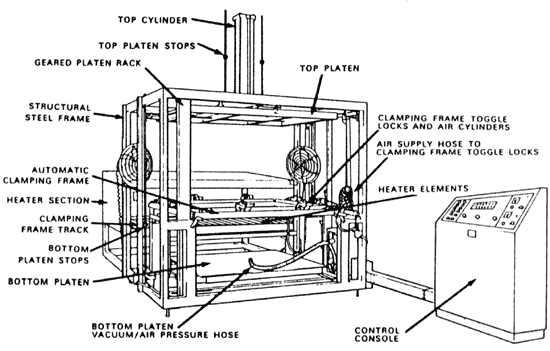 The clamped sheet is transported horizontally to the oven area, where an upper oven is often supplemented with a lower oven so that both sides can be heated simultaneously to speed up the cycle, especially in the case of thick sheet. The clamp frame then returns to a position over the mold and descends, or the mold moves into the sheet to effect the forming step.
Shuttle sheet-fed machines tend to be for all-purpose use. Molds are easily accessible for quick change over and the full spectrum of material thicknesses can be formed. Particularly useful for thick sheet, these machines commonly work in sheet sizes from 2' x 2' to 10' x 20'.
Rotary Thermoforming
Rotary thermoforming is used for applications requiring high production rates. The most commonly used machines are three and four station thermoformers, though two stations have certain advantages as well. Clamp frames are mounted on a rotating table and indexed through a load-unload station, one or two oven stations, and a forming station. Because the multiple stations permit all of these basic phases to be carried out simultaneously, production cycles are much better than with the single station thermoformer. The rotaries are almost never used for package-type applications, but are put to work on heavy gauge sheet. Top and bottom ovens are available, and a top mold base or platen is generally provided for plug assist or other techniques.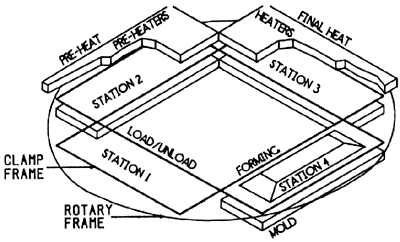 Production rates are increased because there are two, three, or four sheets in the forming process at the same time. A two or three station rotary will have approximately the same output as a shuttle thermoformer with two molds. Using multiple cavity tooling on a rotary machine can, in many cases, provide production rates equal to or greater than injection molding.
Rotary thermoformers with two heating stations are designed so the sheet is uniformly preheated in the preheat station and subsequently heated to forming temperature in the second heat station. This divides the heating load between two separate sets of heaters. With this process design, two heat station thermoformers are usually cooling-time limited, instead of heating-limited. Therefore, the production rate is limited by how long it takes the part to cool after forming and before unloading.