Testing
Material selection ultimately depends upon the desired performance of the finished product, the aesthetics, and the cost effectiveness. However, analyzing how a material is expected to perform with respect to the mechanical, electrical, and chemical requirements is essential to the selection process, so the product requirements must be translated into material properties. The characteristics and properties of material that correlate with known performance are referred to as engineering properties. They include such strength properties as impact, flexural strength, hardness, chemical resistance, flammability, stress crack resistance, and temperature tolerance. Other important considerations can encompass such factors as optical clarity, gloss, UV stability, and weatherability.
What follows are examples of some of the more commonly referenced tests. The examples are intended to give the reader a brief description of what the test is about, but they are much too general to be used as a procedure. "ASTM" refers to The American Society for Testing And Materials - an organization of concerned consumers, producers, and individuals with common interest, who work together to develop standards for industrial products. Their tests do not have the force of law and carry no sanctions, but they have been established to meaningfully describe characteristics of plastics materials.
Dart Impact
ASTM D-2444 Falling Dart
A dart of a specific weight is dropped from a specific height onto a series of control samples. Results are usually expressed in "foot-pounds" required to break the sample. Very useful in weathering or paint studies, and in detecting degradation of material.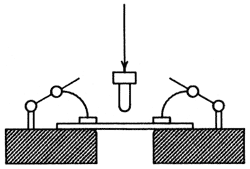 IZOD Impact
ASTM D-256
A hammer on a pendulum moving at 11 ft./sec. swings against a notched test specimen. Test indicates energy required (in foot-pounds of energy per inch of thickness) to break notched specimens under standard conditions. Small test specimen size makes this an ideal QC test where limited material is available. Izod value is very useful in comparing various types or grades of plastic.
Tensile Properties
ASTM D-638 (0.2" per minute)
Tensile properties are the most important single indication of strength in a material. These tests determine the force necessary to pull the specimen apart (in pounds per square inch), along with how much the material stretches before breaking.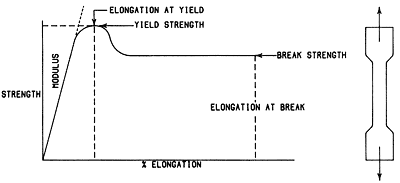 Flexural Properties
ASTM D-790 (0.05" per minute)
These test measure the amount of deflection of a given sample when exposed to specific load (indicated in pounds per square inch). Flexural Modulus is a design property that can be used to calculate stiffness and determine required sheet thickness.

Coefficient of Linear Thermal Expansion
ASTM D-696 (from -30°C to +30°C)
Test indicates how material size changes relative to temperature. This is a very important consideration in design of structural assemblies, and must be considered if dissimilar materials are joined together.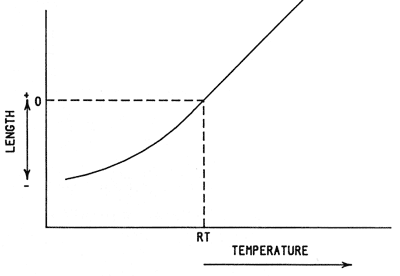 Gardner Gloss
A perfect mirror reflects 100% (perfectly) dull surfaces scatter some light and generate lower values on the Gardner Gloss Meter. Readings are usually taken at a 60 degree angle to the sheet, and can be very useful in identifying relative gloss levels sheet-to-sheet, or on various places on the same sheet.

Density
ASTM D-792 (Specific Gravity)
ASTM D-1895 (Bulk Density)
This is a very important factor in sheet pricing since material is generally purchased by the pound, but sold by the cubic inch or square foot. Calculation for sheet weight is width X length X thickness X specific gravity for that material.
Heat Deflection Temperature
ASTM D-648 (Heat Deflection)
ASTM D-1525 (Vicat Softening Point)
Heat Deflection Temperature is the temperature at which a center loaded bar deflects 0.010" under a stress of 66 psi or 264 psi. Vicat Softening Point is the temperature at which a 0.040" rod will penetrate into a solid sample. These tests are very useful for general comparisons of variations within a specific family of materials.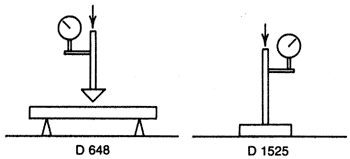 Hardness
ASTM D-785 (Rockwell)
ASTM 2240 (Shore D)
Rockwell Hardness is generally used or rigid plastics, and indicates the permanent set they will take after loading. Shore D Hardness is used for rubbery plastics, and measures the depth of indentation for a certain load applied to a test sample. Not generally used for design purposes, these tests are a good tool for incoming Q.C. inspection, as only small samples are required, and testing can indicate if the desired material was used.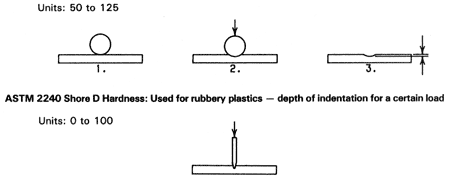 Flammability
ASTM D-635 (Horizontal Burn)
ASTM E-84 (Tunnel Test 24" X 25')
ASTM E-162 (Radiant Panel 6" X 18")
The Horizontal Burn test measures how many inches per minute a test sample will burn in a horizontal position. The Tunnel Test measures relative burn rate on a scale of 0 to 100 (0 being the burn rate of asbestos board, 100 being the burn rate of red oak). The Radiant Panel test measures flame spread on an index (Red Oak being 100 units).
UL 94 Flame Class Rating (Vertical or Horizontal Burn)
UL 94 Flame Class Ratings are very commonly used in the plastics industry, and materials either pass or fail. UL 94 HB measures Horizontal Burn (same procedure as ASTM D-635).
UL 94 V-0 is for average burn of less than 5 seconds
UL 94 V-1 is average burn of less than 25 seconds and no burning drops
UL 94 V-2 is less than 25 second burn with flaming drops
UL 94 5V is tested with a 5 inch flame, in 5 positions, for 5 ignitions, and there can be no burn through and no dripping